The Digital Projector versus The Theater 3D LED Display A Revolution in the Cinema Experience
16-11-10
A projector could be also polarizing mode. The comparison between a projector and an LED polarizing 3D display is shown as follows.
No.
Name
Digital Projector
3D LED Display
1
Rays and Light
Both
Only light, no rays
2
Brightness
Low
Very high, can be used outdoor conditionally
3
Contrast
Low
Very high
4
Defocusing
Very Bad
No Defocusing
5
Misconvergence
Very Bad
No Misconvergence
6
Reflection by screen and Glare by lens
Bad
No Reflection
No Glare
7
Refresh frequency
Low and cannot be controlled
High, can be controlled
8
Life
Short
Can be up to 100,000 hours
9
2D/3D Compatibility
Not apply
Compatible
10
3D TV program
No
100% compatible
11
Not comfortable physiological stimulating
Bad
No such a problem
12
Color attenuation
Bad
Almost no change
13
Projection room
Occupies a big space. There must be an individual projecting room at the back of a cinema.
Can set up more seats and very importantly gather all playing machines for all movie halls of one movie city into one control room to make centralizing control.
14
Efficiency
Low
Much higher
15
3D Vertigo Syndrome
Yes
Almost No
16
Separation rate of left and right
95% or less
99% or higher

3D LED Display vs Digital Projector
There are many advantages in a 3D LED Display over than a digital projector system. Here the main ones are described.
1. RAYS AND LIGHT
Table shows that a digital projector shines light onto a screen with beams of light and that affects the audience at the rear of the theater a lot. Unlike a digital projector, an LED 3D display has no beams or rays of light to distract viewers.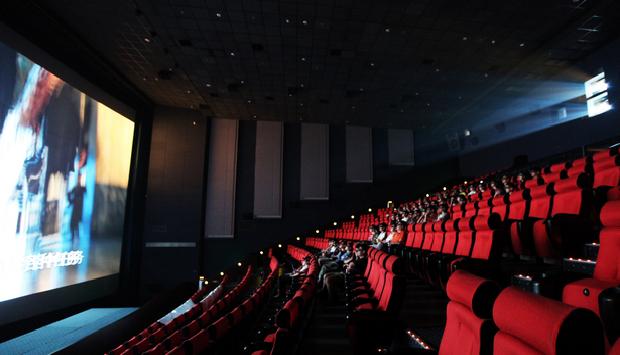 Strong rays from a projector affects back audience

2. BRIGHTNESS
Digital projectors are not as bright as 3D LED displays. When using a digital projector it is helpful to close shade windows, close doors and dim lights. Because a 3D LED display is much brighter, it is not necessary to control indoor lighting in order to attain a superior image.
A 3D LED display can be effective even in many outdoor settings conditionally. From the technical approval of the LED system, and from research, the screen brightness is about 30 times, or even higher, of a digital projector system. And furthermore see the below "Not Comfortable Physiological Stimulating".

3. CONTRAST
A digital projector has much a lower contrast ratio than a 3D LED display. There are several reasons for this including variable projection screens, projector technology limitations and lighting conditions. Simply speaking, a projector system is of low brightness with white background. But an LED system is of high brightness with dark background. By practical testing, the contrast is will be around dozens times of a digital projector at a certain condition.

4. DEFOCUSING
Defocusing is a very obvious weakness of digital projectors. Even at the finest adjustment of focus, the focus is always imperfect. The focus imperfections of digital projectors increase with screen size and projection distance. In a 3D LED system there is absolutely no such a problem.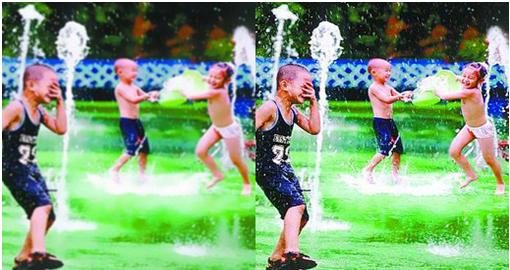 a) A projector system b) An LED system
Practical viewing feeling for a projector system and an LED system
5. MISCONVERGENCE
Digital projectors have a problem with consistent convergence of RGB. Imperfect convergence is demonstrated in Fig 5.3. In a 3D LED system there is absolutely no such a problem.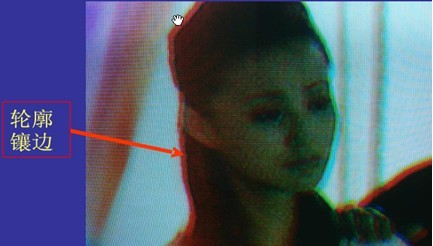 Misconvergence effect
6. REFLECTION AND GLARE
A digital projector shines light onto a projection screen that can reflect light back into the eyes of the viewer. This reflection can be very distracting at different angles. The lens of projector will produce multiple reflections and that will bring glare. These do not happen with a 3D LED display.

7. REFRESHMENT RATE
Refreshment of a projector system should be 48, 50 Hz or 60 Hz and it is not adjustable. So sometimes it will flicker. In an LED system the refreshment can be preset as 300 Hz or even higher such as 900 Hz, and that can be set at any time conditionally if it is necessary. There is no flicker in an LED system.

8. LIFE
It is said that life of a good quality lamp of a digital projector can be at most 20,000 hours and the lamp is very expensive. Sometimes of a normal projector system the lamp could have to replace in just one month, at low rank cinemas. Life of an LED system can be up to 100,000 hours.

9. 2D/3D COMPATIBILITY
An LED system can play either 2D or 3D movies without any change for the systems.

10. 3D TV BROADCASTING
The LED 3D cinema can play without any loss. It is easy to switch to a local zone to play 3D TV to any audience. But a projector could not.

11. UNCOMFORTABLE PHYSIOLOGICAL STIMULATING
A person going to a movie theater experiences a "dark adaptation" when entering the theater and then a "bright adaptation" upon leaving. Medical research suggests that the latter of these adaptations may cause visual fatigue and possible long term damage. These adaptations can be eliminated by using 3D LED displays. This is very easy to understand. But on the other hand, for a digital system the screen brightness could be only 48 cd/m2 before polarizing and just 20 cd/m2 after polarizing. But by writer's experience, the brightness of that could be much lower. At least in China, the practical brightness in many, many cinemas is lower than 20 cd/m2. For many dark scenes of a movie say, as an example many sceneries of movie, must be very low say, lower than 1 cd/m2. When the peak brightness of the silver screen is lower than 15 cd/m2, the low brightness of dark sceneries could be lower than 0.5 cd/m2 and that must be even lower after polarizing glasses to the eyes. As by the principle, when the brightness is as low as between 0.01 cd/m2 to 1 cd/m2, the Pyramidal cells and Pillar cells of human's eyes will exchange very actively and that must be harmful for human's eyes.

12. DECOLORATION
An LED system is from digital to digital and it is a full digital procedure. The chromaticity of an LED won't vary during its life time. But during a projection system there is optical transmission procedure and color filters inside. Besides, the three primaries of color filters could bring different color attenuation under high temperature after a long time heating by the Xenon Lamp.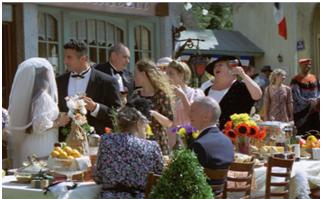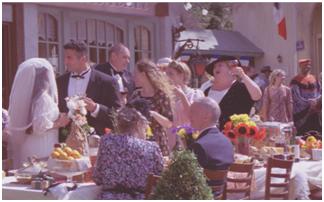 Original Picture Color attenuated picture in a projector system
For all of the above, a digital projection system has critical weaknesses compared to 3D LED displays. Brightness and contrast are much higher in 3D LED displays. The superior clarity of a 3D LED display is demonstrated in the Fig. The quality of 3D LED technology has surpassed digital projection. By the testing results, people's practical significant feeling of a 2k projector movie will be no better than the same movie to be played with a 1k LED system.

13. CINEMA PROJECTION ROOM STRUCTURE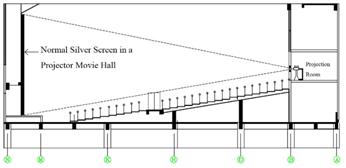 There is a special and individual projection room for each movie hall
In a movie theater or a movie city, there could be many movie halls. For example, there could be up to 50 movie halls in one Movie City. For every hall there should be at least one projection room and that must be special and individual. For an LED system, the status should be quite different. There is no need special and individual projection room for each movie hall. So the rear part for the projection can be moved to set up much more seats. And for all the movie halls in one movie city all the display players such as movie servers or computers can be gathered into one room to make centralizing control. To supervise the movie, it is very easy to arrange a normal video camera to do that. Such a way will be suitable for modern management. And that is more useful in a society, such as in America, of that computer technology is very advanced and the labor cost is expensive. In a movie city or a movie theater, it is possible that one mainframe computer controls all movie halls.

Much more seats can be set and playing equipment for all movie halls can be in one room to make centralizing control.

14. Efficiency An LED screen is of high efficiency display. The following descriptions can make things clearly.
The consumption of a LED system is about 3 times as high as a comparable projector system. But its brightness is about 15 times greater. This is because as known to all, the Xenon Lamp is a very, very low efficiency lighting device - a lot of the Xenon Lamp energy is outside the visible wavelength. Therefore, much of the power that is used for Xenon Lamp display just ends up as heat – not light. On the other hand, an LED is a highly efficient device. Its whole energy is within the visible wavelength. And add with factors, the efficiency of an LED system is about 4-5 times as high as a projector system.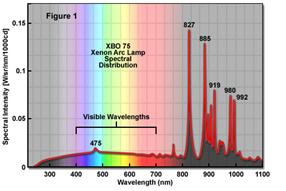 Spectrum of a modern xenon lamp. A big part is outside of the visible wavelength and this is one of the main disadvantages on Xenon Lamp technology.
Certainly by the policy of Energy Star Program, any movie player should be analyzed with its energy efficiency. In lighting systems, just a couple percentage points higher of energy efficiency should be very visible. How about 4-5 times high? Certainly it should be of selective preference. And how about the real consumption that is about 3 times high? The low consumption of a projector system is to take the harm to human's eyes as cost, and such a harm has been removed in an LED system. And by calculation, the cost of consumption of a 220 sq. meter LED screen for every two hours is about one ticket only. Certainly that is very valuable, as it concerns human's health.

15. 3D Vertigo Syndrome
The 3D Vertigo Syndrome is much lower than a projector system.

16. Separation rate of left and right
The separation of both left and right pictures in an LED system can be up to 99% and even higher. The system separation of a projector system is named by 95% but practically 92-93% only. That is a very big difference. The very lower separation makes the so said "Ghost" in a projector is obvious.